3.6L V6 Engine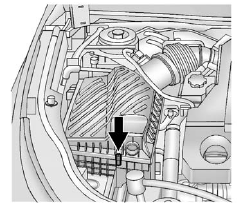 3.6L V6 Engine
1. Remove the screws on top of the engine air cleaner/filter housing.
2. Lift the filter cover housing away from the engine.
3. Pull out the filter.
4. Inspect or replace the engine air cleaner/filter.
5. Lower the filter cover housing toward the engine.
6. Install the screws on the top of the housing to lock the cover in place.
WARNING!
Operating the engine with the air cleaner/filter off can cause you or others to be burned. The air cleaner not only cleans the air; it helps to stop flames if the engine backfires. Use caution when working on the engine and do not drive with the air cleaner/filter off.
Notice:
If the air cleaner/filter is off, dirt can easily get into the engine, which could damage it.
Always have the air cleaner/filter in place when you are driving.
See also:
How to Wear Safety Belts Properly
This part is only for people of adult size. Be aware that there are special things to know about safety belts and children. And there are different rules for smaller children and babies. If a ...
Finding a Category (CAT) Station (XM™ Satellite Radio Service Only)
CAT (Category): The radio may have the CAT button feature. To select and find a desired category: 1. Press the BAND button until the XM frequency displays. Press the CAT button to display the c ...
Wheels and Trim—Aluminum or Chrome
Use a soft, clean cloth with mild soap and water to clean the wheels. After rinsing thoroughly with clean water, dry with a soft, clean towel. A wax may then be applied. Keep the wheels clean using ...