2.4L L4 Engine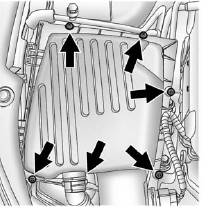 2.4L L4 Engine
1. Remove the six screws on top of the engine air cleaner/filter housing.
2. Lift the filter cover housing away from the engine air cleaner/filter housing.
3. Pull out the filter.
4. Inspect or replace the engine air cleaner/filter.
5. Lower the filter cover housing toward the engine.
6. Install the six screws on the top of the housing to lock the cover in place.
See also:
Vehicle Identification Number (VIN)
This is the legal identifier for your vehicle. It appears on a plate in the front corner of the instrument panel, on the driver's side. You can see it if you look through the windshield from ou ...
Universal Home Remote System (With Three Round LED)
The Universal Home Remote System provides a way to replace up to three hand-held Radio-Frequency (RF) transmitters used to activate devices such as garage door openers, security systems, and home ...
Matching Transmitter(s) toYour Vehicle
Each remote keyless entry transmitter is coded to prevent another transmitter from unlocking your vehicle. If a transmitter is lost or stolen, a replacement can be purchased through your dealer. R ...