Weight of the Trailer Tongue
The tongue load (A) of any trailer is an important weight to measure because it affects the total gross weight of the vehicle. The Gross Vehicle Weight (GVW) includes the curb weight of the vehicle, any cargo carried in it, and the people who will be riding in the vehicle.
If there are a lot of options, equipment, passengers, or cargo in the vehicle, it will reduce the tongue weight the vehicle can carry, which will also reduce the trailer weight the vehicle can tow. If towing a trailer, the tongue load must be added to the GVW because the vehicle will be carrying that weight, too. See Vehicle Load Limits for more information.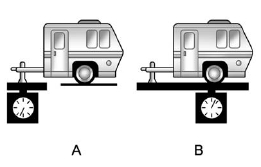 The trailer tongue (A) should weigh 10 to 15 percent of the total loaded trailer weight (B).
After loading the trailer, weigh the trailer and then the tongue, separately, to see if the weights are proper. If they are not, adjustments might be made by moving some items around in the trailer.
See also:
License Plate Lamp
To replace one of these bulbs, do the following: 1. Remove the two screws holding the license plate lamp lens. 2. Pull the lens away from the lamp assembly. 3. Pull the old bulb from the bulb ...
Accessories and Modifications
When non-dealer/non-retailer accessories are added to the vehicle, they can affect vehicle performance and safety, including such things as airbags, braking, stability, ride and handling, emissi ...
Service Publications OrderingInformation
Service Manuals Service Manuals have the diagnosis and repair information on engines, transmission, axle suspension, brakes, electrical, steering, body, etc. Transmission, Transaxle, Transfer Cas ...