Danger, Warnings, and Cautions
Warning messages found on vehicle labels and in this manual describe hazards and what to do to avoid or reduce them.
Danger indicates a hazard with a high level of risk which will result in serious injury or death.
Litho in U.S.A.
Part No. 20977758 C Third Printing
Warning or Caution indicates a hazard that could result in injury or death.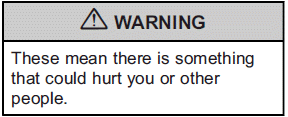 Notice: This means there is something that could result in property or vehicle damage. This would not be covered by the vehicle's warranty.

A circle with a slash through it is a safety symbol which means "Do Not," "Do not do this," or "Do not let this happen."
See also:
Battery Voltage
This display, available on some vehicles, shows the current battery voltage. If the voltage is in the normal range, the value will display. For example, the display may read Battery Voltage 1 ...
How to Reset the Engine Oil Life System
Reset the system whenever the engine oil is changed so that the system can calculate the next engine oil change. To reset the system: 1. Turn the ignition to ON/RUN with the engine off. 2. ...
Navigation/Radio System
Your vehicle may have a navigation radio system. The navigation system has built-in features intended to minimize driver distraction. Technology alone, no matter how advanced, can never replace ...