Off-Road Recovery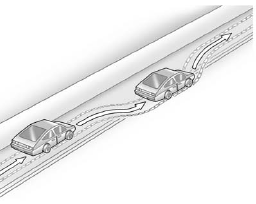 The vehicle's right wheels can drop off the edge of a road onto the shoulder while driving. Follow these tips:
1. Ease off the accelerator and then, if there is nothing in the way, steer the vehicle so that it straddles the edge of the pavement.
2. Turn the steering wheel about one-eighth of a turn, until the right front tire contacts the pavement edge.
3. Then turn the steering wheel to go straight down the roadway.
See also:
City Driving
One of the biggest problems with city streets is the amount of traffic on them. You will want to watch out for what the other drivers are doing and pay attention to traffic signals. Here are w ...
Comfort and Convenience
Select the Comfort and Convenience menu and the following will be displayed: • Chime Volume • Driver Seat Easy Exit • Park Tilt Mirrors ...
Speedometer
The speedometer shows the vehicle's speed in either kilometers per hour (km/h) or miles per hour (mph). ...